The rHDPE is Recycled High Density Polyethylene. This type of plastic is recycled from plastic waste collected with virgin HDPE material such as plastic cans, packaging, household appliances of all kinds and used in specialized pipes, …
rHDPE is commonly available in transparent or white colors. Besides, there are other colors to mention such as red, black, yellow, green and blue, …
rHDPE have the following outstanding characteristics:
Capable of withstanding heavy weight.

Has extremely high durability when resistant to temperature, ultraviolet rays and the destruction of solutions such as concentrated acids, alkalis,…

Capable of creating many different shapes thanks to its high flexibility.

Has good impact resistance.

Resistant to corrosion, mold, insect and rodent damage.
With such outstanding advantages, rHDPE is a material that is widely applied in many fields:
Raw materials for the production of household utensils: cutting boards, floor mats,…

Application in the production of all kinds of plastic bottle packaging, plastic boxes,…

As a raw material in the industry of manufacturing tanks and bottles containing industrial chemicals such as household cleaning products, shampoos, conditioners, laundry detergents,…

Applying the source to produce all kinds of pipes for the industry: fiber optic cables, water pipes,…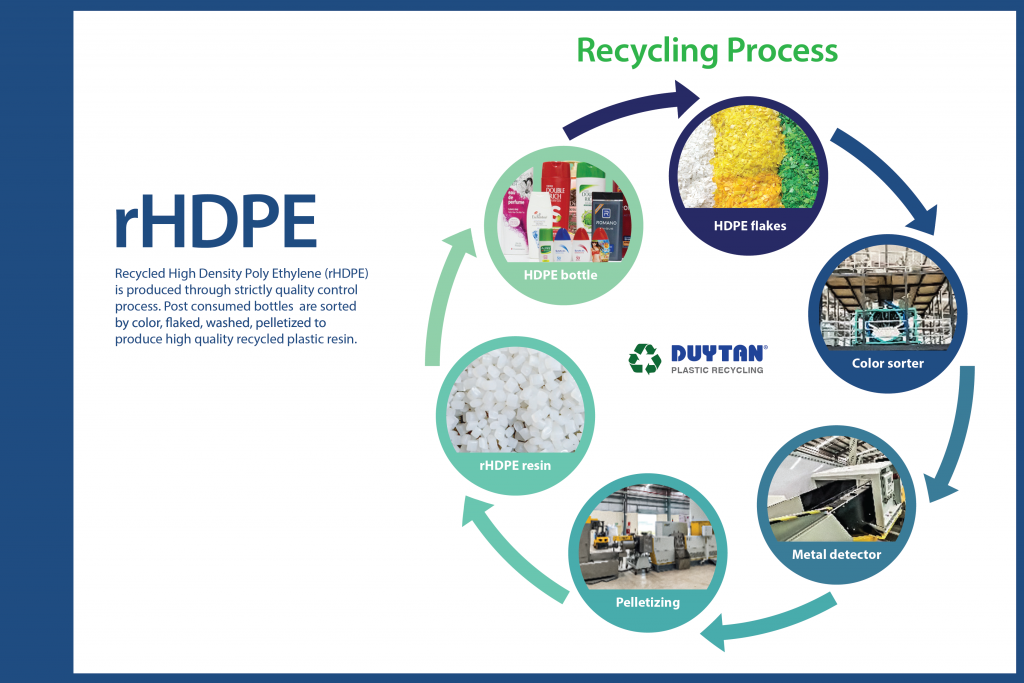 Production process of rHDPE 
rHDPE are produced by DUYTAN Plastic Recycling through many stages of strict quality control. After the HDPE plastic waste undergoes a thorough selection and sorting process, it will be chopped into plastic pieces, cleaned, dried and put into the granulator.
Throughout the production process, DTR ensures strict control over safety and quality requirements. Besides, the factory also ensures to carry out production according to a modern and applies 3 criteria to meet sustainable development: ZERO WASTE – ZERO EMISSION – ZERO WASTE WATER.
—–
– Website: duytanrecycling.com
– LinkedIn: https://lnkd.in/gmgvx_Gf
– Facebook: https://www.facebook.com/duytanrecycling
– Youtube: DUYTAN Plastic Recycling
☎ Hotline: (+84-27) 2377 992
#packaging #plasticrecycling #circulareconomy