Ho Chi Minh City, March 14, 2023 – Unilever Vietnam and DUYTAN Recycling held the event "Partnership Signing Ceremony to drive Plastic Collection and Recycling" towards Circular Economy.
The partnership demonstrates the commitment and determination to realize the goal of a leading consumer goods corporation in Vietnam to increase post-consumer recycled plastic (PCR) and reduce virgin plastic in production, increase the packaging recyclability, as well as collect and process more than plastic packaging sold on the market. Those aim to turn plastic waste into a useful renewable resource for economic and daily use purposes, and reduce the harm to the natural environment.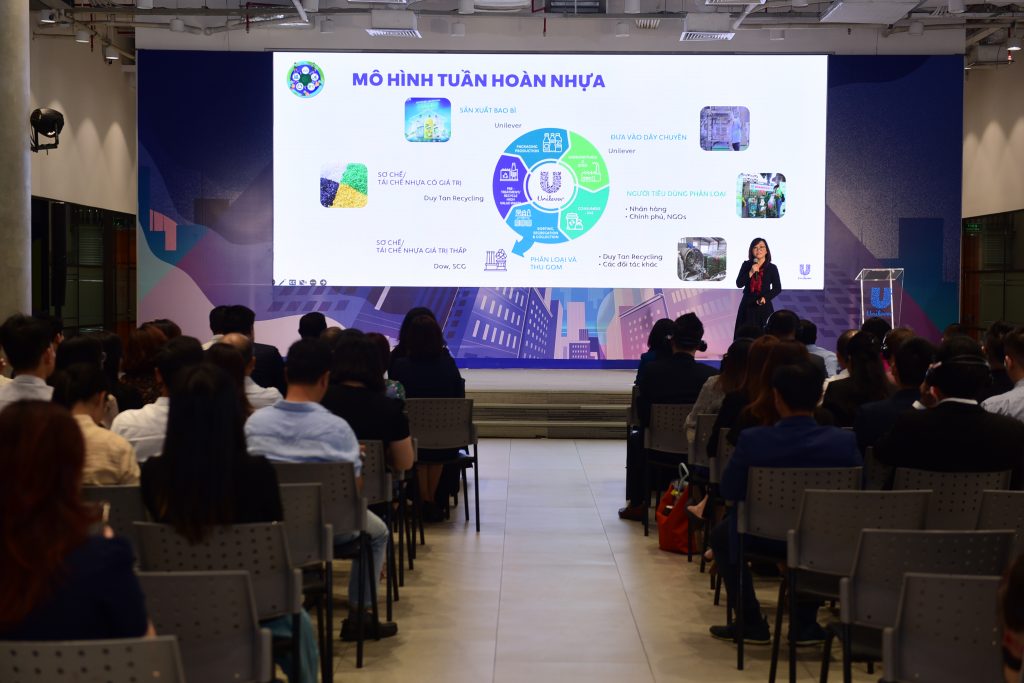 Partnership towards environment and society
According to the Market Study for Vietnam: Plastics Circularity Opportunities and Barriers conducted by IFC and the World Bank, as much as 2.62 million tonnes of plastics are disposed of per year, that is, not recycled, resulting in the loss of 75 percent of the material value of plastics, which is equivalent to US$2.2 billion to US$2.9 billion per year. The recycling industry in Vietnam has a diverse but undeveloped source of recyclable materials while the plastic recycling rate is only 33 percent. The main reason is that the demand for post-consumer recycled plastic (PCR) is not high enough because using virgin plastic is more convenient and cost-efficient.
Therefore, the quality of PCR plastic is always a challenge for corporations that apply international standards to their products like Unilever. This is also a "bottleneck" in driving the circular economy for plastic in Vietnam.
The partnership between Unilever Vietnam and Duy Tan Recycling is a step forward in promoting the use of recycled plastic in Unilever's packaging production, thereby increasing recycling activities and creating a cycle for plastic waste in Vietnam.
This model will be brought into life from establishing a system of plastic waste segregation at source and collection, then leveraging the expertise and technology of Duy Tan Recycling to optimize the plastic waste collected through recycling and recycled plastic particles production to serve the packaging production of Unilever Vietnam.
Bearing a strong commitment, close-knit collaboration, and a firm action plan, the 5-year partnership between Unilever Vietnam and Duy Tan Recycling aims to collect and recycle 30,000 tons of plastic waste by 2027.
Along with the goal of building a plastic cycle to protect the environment, this partnership also contributes to implementing social commitments by improving working conditions, hygiene and health; providing training to increase the awareness and capability, enhancing livelihoods and social safety for waste collectors at more than 100 collection stations in the value chain of Duy Tan Recycling. This workforce is considered vulnerable and under-represented when the majority of them are women and almost stay out of the social safety net.
Additionally, Unilever Vietnam and Duy Tan Recycling also conduct communications and education programs to raise people's awareness about environmental protection through the habit of sorting waste at households. This will help create stronger and wider impact across the country.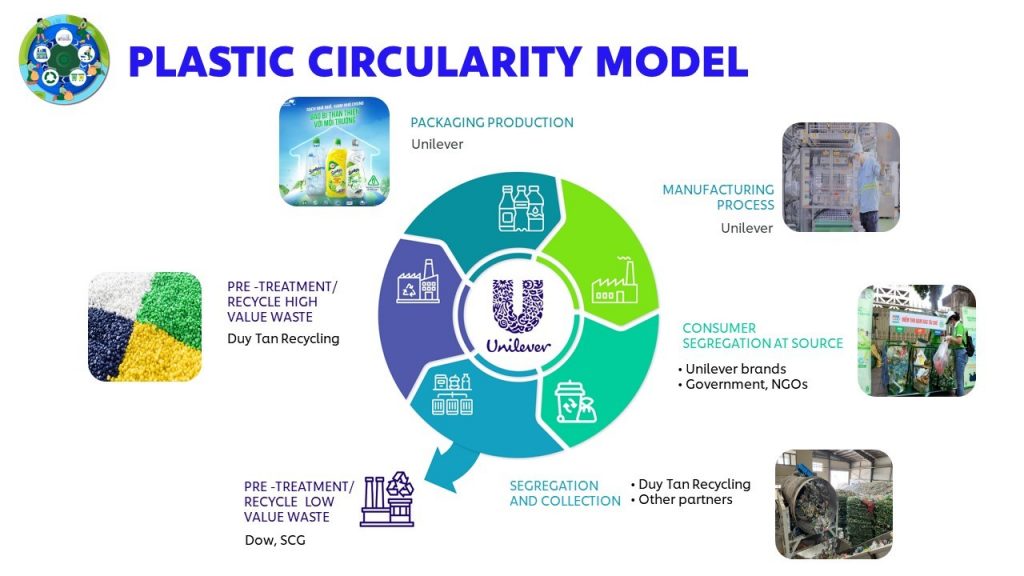 Capacity foundation
According to Ellen Macarthur Foundation, by 2040, a circular economy has the potential to reduce the annual volume of plastics entering our oceans by 80 percent, reduce greenhouse gas emissions by 25 percent, generate savings of USD 200 bn per year, and create 700,000 net additional jobs.
Leading in plastic waste management in Vietnam, Unilever has promoted a range of long-term and comprehensive action plans. In particular, reducing, innovating and circulating are three main actions driven by the business.
The company is committed to cutting down the amount of virgin plastic used in packaging production by half by 2025 – in which utilising PCR plastic is a key approach at Unilever Vietnam. The business aims to innovate, apply technology to ensure all packaging is recyclable, reusable or compostable. Meanwhile, Unilever Vietnam also circulates their plastic packaging through the plastic waste collection and treatment, then bringing it back to the manufacturing activities.
Unilever Vietnam has now achieved 82 percent plastic reduction, 73 percent packaging recyclability, and collected and processed more than 20,000 tons of plastic waste. The bottle packaging of many brands has also been applying PCR plastic. Typically, bottles of Sunlight, Lux and Love Beauty & Planet products use 100 percent PCR plastic; several other products have also applied PCR in packaging such as: Dove, Lifebuoy, Sunsilk, Comfort, OMO…
Bearing the mission of "Contributing to plastic pollution reduction in Vietnam", Duy Tan Recycling conceived the idea and plan, studied the technology over the period from 2017-2018, then officially constructed a recycling plant in 2019. In 2020, the business conducted the equipment installation and trial production prior to bringing the plant into official operations since 2021.
The plant of Duy Tan Recycling is currently operating according to International Standards on Quality, Environment, Safety & Health, owning the production capacity of up to 100,000 tons per year. The company is applying the modern technology "Bottles to Bottles" – from an input plastic bottle, the business will process and produce recycled plastic particles to ensure physical and chemical conditions for food safety. These plastic particles will be blown into new plastic bottles.
With those strengths, this cooperation will create a great motivation to help complete the circular economy model in plastic waste management that Unilever is aiming for. This also helps inspire other think-alike businesses to increase PCR plastic use in packaging production, as well as asks for the Government's instruction and suport to open up more development opportunities for the recycling industry, which contributes to spreading the circular economy model across the country.
Cre: Vietnam Economic News – MINISTRY OF INDUSTRY AND TRADE
—–
– Website: duytanrecycling.com
– LinkedIn: https://lnkd.in/gmgvx_Gf
– Facebook: https://www.facebook.com/duytanrecycling
– Youtube: DUYTAN Plastic Recycling
☎ Hotline: (+84-27) 2377 992
#packaging #plasticrecycling #circulareconomy