Green Economy Forum & Exhibition 2022 (GEFE) is an event organized by the EuroCham Vietnam in cooperation with the Vietnamese government and ministries. With the goal of helping Vietnam achieve its COP26 commitments and fulfill the socio-economic development goals outlined in the National Strategy on Green Growth for the 2021-2030 period, GEFE 2022 was implemented to take place from November 28 to the end of November 30 at THISO SkyHall, Ho Chi Minh City.
In the afternoon of November 29, 2022, GEFE took place with the main theme "Circular economy" discussed and shared by the speakers at the conference and discussion session:
With the special speakers including:
Mr. Le Anh -Sustainability Director of Duy Tan Plastic Recycling;
Dr. Carola Richter – President, Asia Pacific – BASF;
Le Thi Hong Nhi – Head of Business Sustainability, External affairs, and Communication – Unilever Vietnam;
Giafar Safaverdi – Managing Director, Purchasing & Logistic Area Manager, South East Asia – IKEA Services (Vietnam) Co., Ltd;
Hendra Syahputra – General Director/ Country Head Dynapack Asia- Vietnam Operation – Dynaplast Packaging (VN) Co.,Ltd.
Eileen Cai – Chief Advisor, APAC Regional Projects Director – Alliance to End Plastic Waste (AEPW);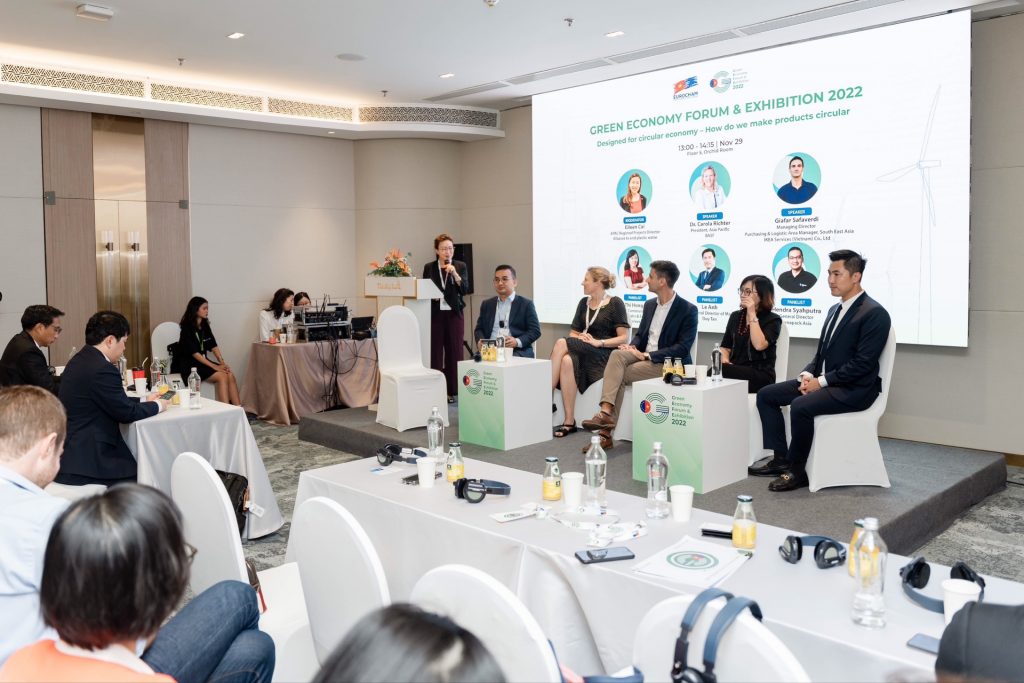 "The era of the linear economy is ending because we simply cannot afford it anymore" said by Dr. Carola Richter. During the sharing session, she always emphasized that the transition from a linear economy to a circular economy is essential to help solve the challenges facing society and the environment. The keyword "Circular economy" is the best solution to reduce waste problems, especially plastic waste. At the same time, there was also a lot of sharing from other speakers and panelists. Mr. Giafar Safaverdi – Managing Director of IKEA Service Co., Ltd (Vietnam); Mr. Hendra Syahputra – General Director Dynapack Asia and Ms. Le Thi Hong Nhi – Head of Sustainability Department – Unilever Vietnam shared and introduced to the audience how their Company promotes the use of recycled products from old products.
Honored to be invited to the discussion session with the theme: "Designed for circular economy – How do we make products circular". Coming to the discussion session, Mr. Le Anh – Sustainability Director of Duy Tan Plastic Recycling introduced and shared the long-term goals and activities that the Company is implementing. According to him: "Duy Tan Plastic Recycling is the first factory in Vietnam to apply the "bottle-to-bottle" recycling technology, by collecting used plastic bottles and recycling them into recycled plastic granules for the purpose of being able to create a loop of new plastic bottles." In addition, the Company believes that "Connection" is one of the strategies that Duy Tan Plastic Recycling is very interested in. From that, it can be affirmed that GEFE 2022 is a very suitable place to help create a network between groups of people interested in developing a sustainable economy.